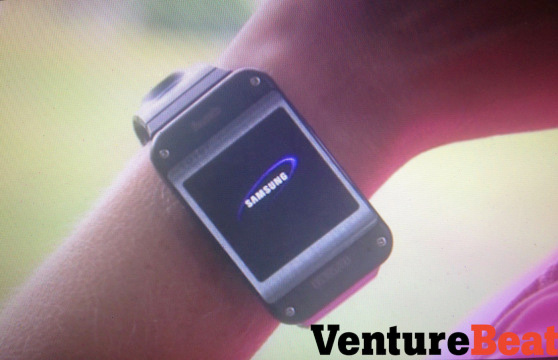 The Samsung Galaxy Gear unit found itself in the hands of Venturebeat who got to spend some time with the smartwatch and spilled some beans about it along the way.
What you see above is a snapshot of a Galaxy Gear promo video, as the media wasn't allowed to take photos of the actual prototype it had. Anyway, the display of the Galaxy Gear is 3" in size and is of the OLED variety. The screen is square, but sadly its resolution wasn't disclosed.
The prototype Galaxy Gear itself is colored in dark gray and black and sports built-in speakers in the strap. Naturally, there'll be more colors on the way, but they weren't detailed. On the top side, there's also a 4MP camera, which is used to record health data as well as taking pictures. There's a special piece of software which recognizes if the food is fat or contains grains.
The Samsung Galaxy Gear is going to be able to receive voice commands through the S Voice app. Thanks to Bluetooth and Wi-Fi, the smartwatch is able to connect to other smartphones, too. This allows it to sync call logs giving you the option to initiate a call from the watch to a Samsung smartphone. Wi-Fi connectivity also means social media integration with Twitter and Facebook.
Venturebeat reports the Galaxy Gear's battery is going to be good for up to 10 hours. The battery capacity wasn't disclosed, but from the photos you can clearly see that the Gear is going to be quite big.